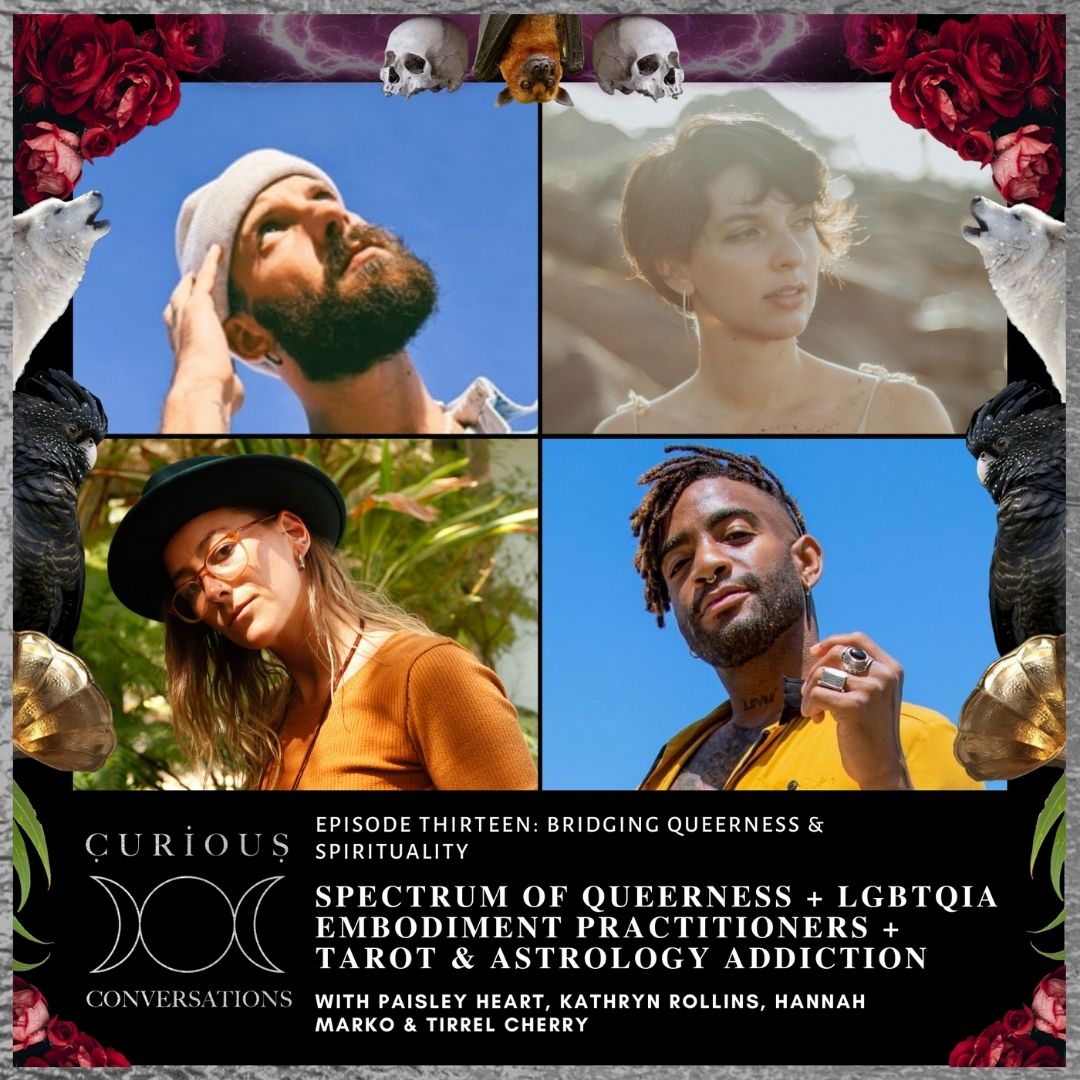 After coming into his queerness through spiritual exploration, Paisley gathers a few like-minded friends to talk about their path of queerness and spirituality. Kathryn Rollins, Tirrell Cherry & Hanna Marko join Curious Conversations to unpack their where they find themselves on the queer spectrum, becoming embodiment practitioners in the LGBTQIA+ community, using divining tools and so much more.
Kathryn Rollins is an Australian artist and intuitive based in Bali, Indonesia.
She spends her days designing and building websites, dancing, creating art in the form of music, poetry, and visuals, and sharing her wisdom online.
A great experimenter, she longs to experience all that life has to offer and master many skills, which, in this moment, is pole dancing.
Prior to this current phase of web developing, dancing, and art creating, she ran an online coaching business called Secure & In Love which helped people heal themselves on a body and energy level and resolve insecure attachment issues.
Her online courses have explored a range of topics including pleasure, body love, neo-Tantric wisdom, erotic dance, magic and intuitive gifts, and the energetics of relationships. Everything she creates seems to end up an artistic intuitively guided adventure into the body and the self.
Her psychic gifts give her a unique insight into human beings that she often shares on her social media.
She's a queer woman loving woman who flows freely on the gender spectrum, allows herself a wide range of expression, and has a podcast called Queer & Clear which is out now.
Tirrell is a mindset and manifestation coach here to help others rewire subconscious beliefs that are holding them back from clarity, peace and the confidence to create a life on their own terms. He is your no-nonsense friend that guides you towards self-empowerment; always the voice of reason that says, "you can do anything you want to do, let's get to it".    
Han Marko aka Hanarchy is an introverted - extroverted queer multi-potentialite. An entrepreneur, photographer, rapper, pisces, party with purpose advocator, artist and soon to be breath work facilitator. She thrives on psychotherapy, playing basketball, creativity and her connection with the water spirit